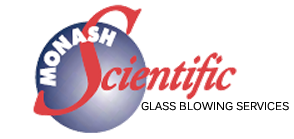 About Us:
Monash Scientific is a manufacturer of Pyrex and quartz scientific glass apparatus.

Monash Scientific Glassblowing Services was formed as an offshoot of the Monash University, Science Faculty Glass Blowing Facility, which was closed in 1998.

Our aim is to provide a professional and comprehensive glass blowing service to the science community.

We supply both commercial and government, research and analytical laboratories.

Monash Scientific is one of the best-equipped glass blowing facilities in Melbourne, situated in Dandenong, Australia..